Sweden's Charlotte Kalla held off Norwegian cross-country legend Marit Bjoergen to win the women's skiathlon and claim the first gold medal of the Pyeongchang Olympic Games.
Kalla won the 15-kilometer skiathlon final held at the Alpensia Cross-Country Center in PyeongChang on Saturday afternoon with a time of 40 minutes 44-point-nine seconds.
Norway's Marit Bjørgen took silver, 7.8 seconds back, to become the most decorated female winter Olympian of all time while Finland's Krista Parmakoski clinched bronze, 10.1 seconds behind the victor.
"I have been very good for many years but I'm also getting older and the younger girls are getting better", Bjoergen said.
She said she has plenty of respect for Bjoergen, one of her training partners.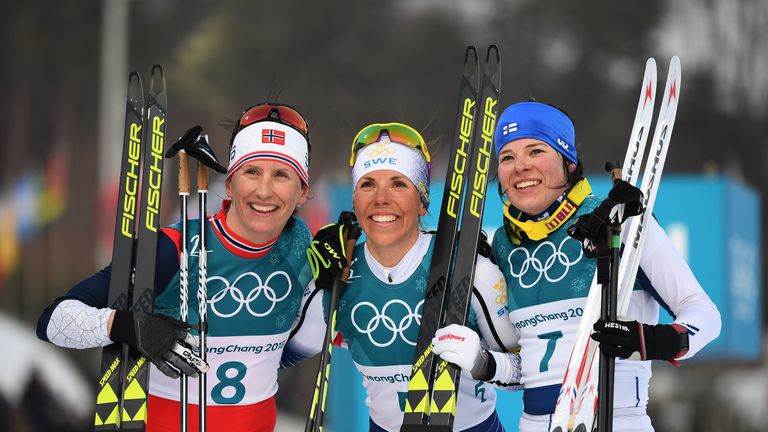 Silver medalist Bjoergen, gold medallist Kalla and bronze medallist Parmakowski
Bjørgen's 11 Olympic medals now make her the most decorated woman in the history of the Winter Olympics. Carlijn Achtereekte won the gold medal with 3:59.21 and her teammates Ireen Wust and Antoinette de Jong came in next with 3:59.29 and 4:00.02, respectively. She will have a chance to pass that mark in the upcoming weeks.
The gold is Kalla's third of her Olympic career after she won the 10-km freestyle in Vancouver in 2010 and another as part of the Swedish 4x5-km relay team in Sochi four years later.
Late in the race, Kalla seemed re-energized and pulled away with a burst.
Kalla said she anxious she might have made her move too early.
"Clearly, it boosts our self-confidence so that we can look forward with cautious optimism to future competitions". Heidi Weng of Norway, who leads the World Cup standings, finished a distant ninth.